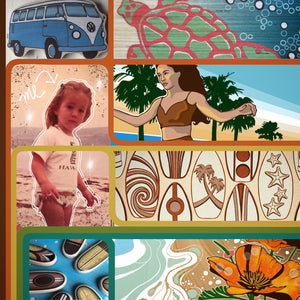 STYLE: When I am drawing for myself, my color palette is very much a product of being a child of the 70s. Brown, rust orange, avocado green, mustard yellow, and turquoise.
---
BRAND INTRODUCTION: Back when my babies were still babies I made baby things - Bibs, booties, nursery artwork and pillows with whimsical silk screened animals. As my boys grew up, so did my areas of interest.
---
I want to share the story of my passion project - A journey that is still very much underway. I intend for it to by my life's work and, well, since it is nearly 17 years in the making I would say it has taken up a pretty good portion of my 47 years to qualify.  For years I've dreamt of creating a children's book. After my son was born, I began doodling little winged animals. Later I would silkscreen them onto bags and pillows to sell at craft fairs. Customers would ask if I had a story about my animals...
---
• Baby Boy Nursery • Baby Mobile • Nursery Decor • Nursery Inspo
I gathered up some sweet decor for a "Le Petit Prince" baby nursery that includes my "Little Prince" wooden baby mobile. I think a collection of blues, grey, and gold would create such a calming effect for a baby boy's room and you probably can't put too many stars on the walls and ceiling. See my link below for all of the "Le Petit Prince" wall decals available at Walls360 - they have just about every graphic from the book and I'm so in love with them. I also adore the shadow box nighlight from the Etsy shop NightLightLamp. Such...
---
• Beach Decor • Studio Vlog • Surfboards
A fun little video of me making one of my surfboard nameplates.