• Maker Vlog • Travel
I don't know about you, but when I pack for a trip, having the right shampoo or enough sunscreen is the least of my concerns. When I'm packing, I'm thinking about what I'm going to be working on while on vacation. I have a project for the car, one for early mornings and even more for lazy afternoons. I'd rather bring more than I have time for than find myself with nothing to work on. Here's a look at my latest road trip and the supplies I brought along.
---
I've been brainstorming ideas to create a line around rainbows - but I'm thinking of the rainbows of my childhood. 1970s and '80s rainbows to be exact. So why not put together an vision board for inspiration? I should totally do this whenever I'm  mulling ideas over. Or is it just a way to procrastinate from getting my ideas on paper? Maybe a little of both? Anyway... I'm loving the brown and orange rainbows. They feel so familiar to me. In fact, my memories of childhood all seem to have an orange, rust colored glow in my mind. I think there...
---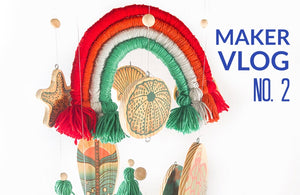 My 15-year old son looks like he just stepped out of the '70s with his long, curly hair and center part. Maybe things have come full circle - I'm seeing a whole lot of macramé and yarn work on my Insta and Pinterest feeds! Yarn rainbows have been EVERYWHERE and I wanted to make one without driving to the craft store. Using supplies I had here at home, I created this one using foam floor tiles and yarn.
---
• Backyard Barbecue • California • Spring • Wildflowers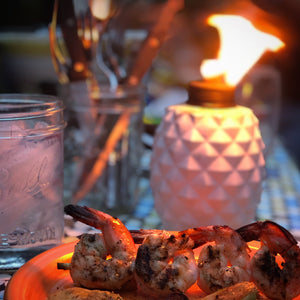 I absolutely love it when I can barbecue dinner out on the patio while barefoot. Even better, after the start of daylight saving time I can barbecue dinner with the sun still up in the sky! Though it still feels a little cooler than it should for a week out from Memorial Day weekend, it's still just warm enough for dining al fresco.
---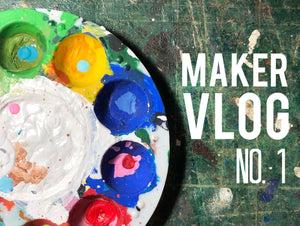 I am always in the process of either making something or thinking about making something. Why not add making videos to the list?